Legacy Giving
A Gift for Today & Tomorrow: You can leave the world a better place
Thank you for considering a legacy gift to support Between Friends' mission of fostering belonging, friendship, and community inclusion for individuals with disabilities. Leaving a planned gift to Between Friends is a powerful way to create a lasting impact and ensure that our programs continue to enrich lives for generations to come. On this page, we provide comprehensive information on legacy giving, including testimonials from generous donors, frequently asked questions, and step-by-step instructions for those interested in making a planned gift.
---
Legacy Giving or Planned Giving allows you to create a charitable gift today that will benefit Between Friends in the future. It is important to remember that it is "planned" because it takes some thought and preparation, and because you should consult a lawyer and your financial planner about it.
A gift left in your Will allows you to make the gift of a lifetime to a cause that you believe in – a gift that you may not be able to afford while you are alive. This generous legacy giving to Between Friends allows us to realize our vision of an inclusive community and ensures that future generations continue to have access to quality social, recreation and development opportunities.
It also helps you address a variety of personal financial goals. Whether you want to make a significant gift during your lifetime, or as part of your estate, we can work with you and your advisors to create a mutually beneficial gift plan.
Anyone can make a bequest. The amount does not matter – but supporting a cause you cherish, leaving a legacy of values as well as financial disbursements, matter's a lot. This is one of the most important things you can do to build the world you'd like to see.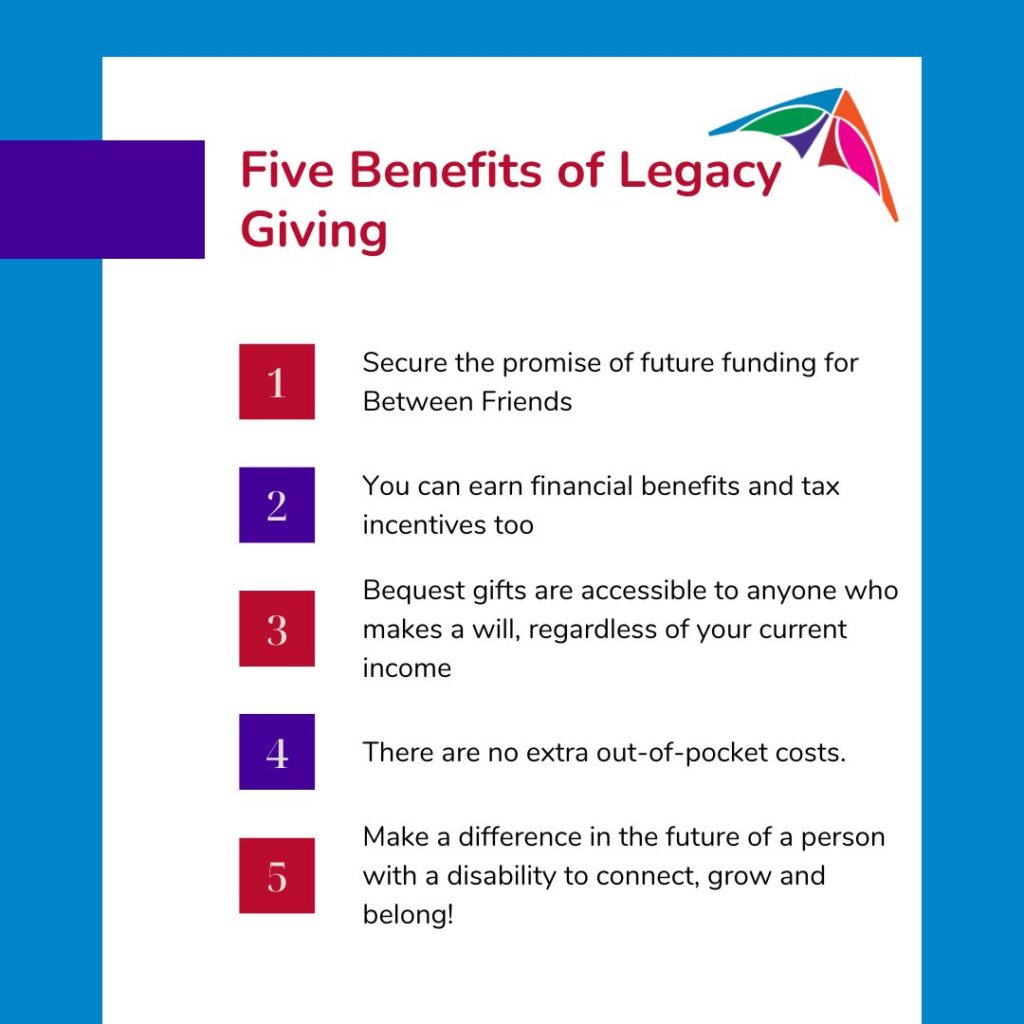 GIVING OPTIONS
There are many ways for you to create a legacy or planned gift for Between Friends that aligns with your values and hopes for the future. The following are a few of the options available:
A Bequest in Your Will
You may choose to bequest a portion of your estate to Between Friends, or a specific Between Friends program.
Bequests allow you to maintain control over your estate throughout your lifetime and beyond.
Gifts of RRSP's
Between Friends can be designated the beneficiary of RRSPs or RIFs outside of your will.
Donors can leave lesser taxed assets to heirs.
Gifts of Securities
Gifts of publicly traded securities can be given as a current gift or a future gift in your will.
To safely and securely donate gifts of securities please visit our charity webpage on CanadaHelps.org
Gifts of Life Insurance
You can make a significant gift to Between Friends without great expense by donating a new insurance policy or an existing policy that you no longer need.
Premiums may be eligible for a charitable tax receipt.
Gifts of Property
Gifts of real estate, works of art and other tangible assets may be made as a current donation or through your will.
You may also decide that you or your beneficiaries retain use of that particular asset for your or their lifetimes.
Endowment Fund
You can set up an endowment fund in your family's name, or in special memory of a loved one as a way to remember them forever.
The interest from this endowment fund is distributed every year in support of a program you are passionate about; or you can allocate your giving to ensure the successful operation of the organization.
You can also contribute to the Calgary Between Friends Club Fund managed by the Calgary Foundation.
For more information or to start a legacy gift call: Candice Wyma, Manager, Fund Development at Between Friends 403-296-0257 or via e-mail: fdmanager@betweenfriends